Verandah Edging
Long strips of slate forming a decorative and functional edge to a verandah or to paved or concreted areas. Traditionally they are bullnosed on the outer edge, although other edge profiles are available.
The functional overhanging edge provides for the shedding of water. Its soft colour contrasts perfectly.
Single lengths up to 2500mm are available with widths to suit the application. Longer lengths are available but delivery times may be extended.
To maximize the best appearance, thus your house value, thickness and width should relate to the scale of the building.
Usually the thickness for smaller verandahs is 30-35mm and for medium and large buildings 35 to 50mm. Butt joints at returns are strong and traditional.
Mitred corners can be provided to suit verandah design. When considering dimensions it is usual to avoid joints in line with doorways and are frequently chosen adjacent to or under posts or in the centre of spans. Edging is made specifically to customer dimensions. Irregular shapes may require templates.
Specifying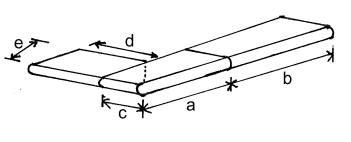 Length of front edge as individual piece
Lengths (a,b, etc)
Width of front edge (c)
If end of front strip is seen and therefore edged same as front, the left or right end should be specified when viewed from outside the building.
Length of any end return piece measured from rear edge of front strip (d)
Width of any end return piece (e) if different from front edge