Specifying Mintaro Slate
As the stone is provided in a natural hand split finish and mother nature has over many millions of years predetermined the natural splitting planes we ask that the following be acknowledged.
Thickness
When nominating a thickness of material a tolerance of +/- 2mm is accepted. Where pieces butt together or form a long length a 2mm variance would be provided in thickness. A 3-4mm joint between pieces is a good idea: to highlight the individual piece the surface feature of each stone may vary slightly, the joint absorbs this For tiles, paving or flagstones a tolerance of +/-5 to 7mm is supplied. A 6-8mm joint between pieces highlights the individuality. Commercially we provide thicknesses from 20mm to 50mm. Slightly thinner only in small quantities or thicker is able to be sourced.
Width
Can be cut to order. Upto 1800mm.
Length
Single lengths upto 3000mm or possibly longer if time to source permits.
Machining Tolerance
Our machinery uses modern sawing and shaping techniques and is well maintained. We believe our tolerances are tighter than industry standards. At the same time, some processes are carried out by hand, and diamond saw blades are subject to wear. Unless otherwise agreed, tolerance of ±2mm may be applied to length and to width.
Colour
Mintaro is a traditional blue/grey colour varying only slightly through its natural formation, just enough to allow it to express its individuality. Because of the fine grain the same piece may appear lighter or darker when viewed from different directions. External use can see the stone be subject to an initial slight fading softening its newness.
Non Slip
Australian Standard AS/NZS3661.1:1993 sets adhesion test results to be achieved by a material used for foot traffic. In both wet and dry situations Mintaro Slate well satisfies that standard.Any pavement however must be kept clean, leaves, dust, pollen and silt can all encourage a slippery scum. Removal is usually by mechanical means, sweeping or scouring with sand; an organic build up of mould or slime is destroyed by scrubbing with diluted bleach and a nylon brush. The activity of foot traffic acts to scour a pavement and keep it fresh.
Click photos to view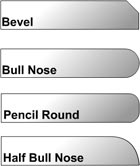 Standard Profiling of Edges