Random (Crazy) Paving - Irregular Shapes
Popular for use on driveways, paths, patios, verandahs, walkways, public areas and internal floors.
Great for informal and public areas.
A durable material making a hard wearing continuous pavement showing some variation of tone and piece size.
2 thicknesses of random paving are available, thinner or thicker on request.
Regular Paving
For the driveway or vehicular traffic areas we suggest this grade with a thickness range of 26-35mm.
Ideally bedded with mortar on a concrete foundation.
As a guide only, and assuming a joint gap between pieces of 50-60mm, 1 tonne of this slate should cover about 13 square metres.
Selected Paving
A thickness range of 16-25mm.
A popular choice for most applications. Mainly used on a concrete base.
As for Regular Paving above, as a guide only and given the same joint gap, about 20 square metres of coverage per tonne is possible.
Notes
Size variation for all 3 of the above would be from 250mm to 1000mm across.
When ordering specify the number of square metres.
A price can generally be given delivered to your door.
The cement mortar between pieces can be trowel finished, chamfering around each stone.
For special inside work, terrazzo is sometimes used instead of mortar.
LP Random Paving
Large pieces are provided in the regular and selected grades, comprising of 1 to 2 pieces per standard pallet layer only.
Can assist in larger areas or commercial sites where size of design is required to be more evident. Also used as features, informal steps, thresholds or in landscaping applications.
SE Random Paving (sawn edge & irregular shapes)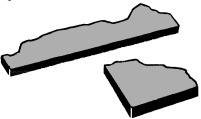 Outside edges may be rough or sawn.
Use the straight edge along walls, pathways or as a step, edging or borders.
Available in 2 types:
Sawn Edge Offcuts - thickness is between 20 to 30mm. At least 2 sawn edges and the others irregular in shape.
Random (Crazy) Paving or Large Pieces - provided in the regular or selected thickness. A saw cut is made to each piece giving 1 straight edge only.